Welcome to my blog. I have set this blog up to show case my American Staffordshire Terriers. In other words brag and whine about our triumphs and failures.
I own Two Amstaffs and one mixed breed. My mixed breed, Charlie has earned his CGC and RN and will be entering the obedience ring this year.
Violet, 9 year old Amstaff, has trialed in Rally and Obedience. After passing her CGC test I entered her in a large local obedience trial on a whim. We trained for about a month two or three times a week. Amazingly she finished her CD in one weekend with two thirds and a tie for fourth.
A few months later we headed into the rally ring. We had a blast and she breezed through her RN, RA and RE with 98's, 99's and 100's. We plan on continuing with Rally until we get our RAE because we enjoy our time in the rally ring so much.
I attempted to get a CDX on her with very little training. I think the ease of the other titles had gone to my head. I got a very clear wake up call in the form of V giving me the doggy equivalent of the middle finger in the middle of the heel exercise.
I few months and fun matches later we were back in the ring. This time earning our CDX with two firsts and a second.
We are now slowly but surely headed for the Utility ring. She is such a reliable dog but tends to be slow in the learning phase. With her the old saying "Slow and steady wins the race" is very true.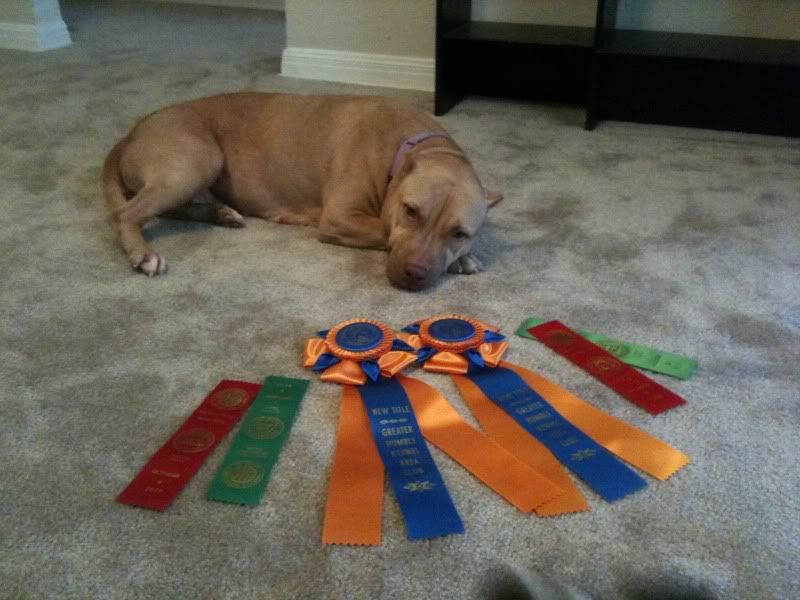 On March 1st I brought home my new Amstaff puppy, Phlox. I have been waiting for a puppy for two years even putting down a deposit with a wonderful breeder. However, Phlox was a bit of a surprise...or maybe just fate.
Phlox has started puppy class and is doing very well. He will be in the conformation ring this summer and will begin showing in rally and obedience in a year or so. I have such high hopes for this little guy and he has no desire to let me down. His focus and drive are beautiful and he is always up for a challenge.
This last weekend Phlox accompanied me to a hockey game our training facility had a booth at. He was wonderful demonstrating his sits, downs, stands, loose leash walking and greeting people politely with all four paws on the floor.
I will be posting trial results, pictures and videos in the future.